FRESHINDEX NEWS
01/22_Welcome to tsenso: Dr. Daniel Heger.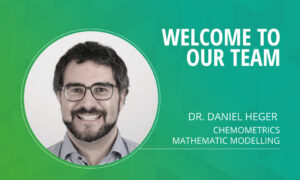 "I'm a passionate researcher who loves to extract and simplify insights and creates creative, practical and sustainable solutions.  
Favoring deep understanding as well as broad applicability, I studied physics with a focus on mathematical methods, numerical analysis and simulations.  I especially liked the challenge of interdisciplinary research areas: My diploma thesis tackled shape changes of proteins that are important for blood clotting and I worked at the intersection of physics, electrical engineering and neural networks during my PhD. The topic of my dissertation – networks of nonlinear oscillators as computing devices – also sparked and grew my interest in neural networks and artificial intelligence in general. Consequently, I applied to a software company as a data scientist, developed robust and maintainable machine learning and software solutions and grew and lead a team of data scientists.   
Impressed by tsenso's innovative and sustainable vision, I currently apply my expertise in artificial intelligence and physics to extract quality parameters like sugar content from our spectrometers' data and predict shelf life and ripening of food."