FRESHINDEX NEWS 02/20
Quality information & shelf life of fruits & vegetables – with FreshAnalytics.
Our initial project "FreshIndex" focusing on pork came to an end and so did our cooperation with METRO Germany. As a result, we joined forces and started a second, build-up phase with FreshAnalytics.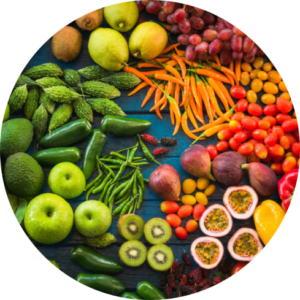 Our core vision, the provision of a dynamic best-before date for perishable products worldwide, has remained the same. However, with FreshAnalytics, the focus of the project has changed to fruits and vegetables.
Why? Already during the FreshIndex project, we realized that there are greater losses and waste along the food chain in fruits and vegetables than in meat. 33 % of food waste in Germany is fruit and vegetables. Additionally, regulatory constraints are lower, supporting our innovation. So while we still believe that the meat and fish sector is one of the prime applications for our dynamic quality and safety evaluation, we will focus now on the fruit and vegetable segment as the lower hanging fruits.
FreshAnalytics thrives to give the most accurate information about quality and shelf life of product batches, pallets and even the single product unit. To cope with the natural variances in the fruits and vegetables sector, we rely on powerful spectroscopy and image recognition. By combining the food scanner and the sensor data inside a "digital twin of food" the FreshIndex cloud will provide the true shelf life and quality of fruit and vegetables at any stage along the supply chain.
This enables processes to be optimized at various stages of the supply chain, food losses and wastage to be avoided and, above all, an honest view of the quality and shelf life of the products to be given – you know what you are getting.
We are looking forward to our pilot this year.

FreshAnalytics is funded by the German Federal Ministry for Economic Affairs and Energy as part of the "Smart Data Economy" technology program (funding code 01MD19009). The program is funding a total of 20 selected projects. The exploitation of data is a serious economic factor, because in the digital age, data is the raw material for economic value creation.
The FreshAnalytics consortium consists of (in alphabetical order): arconsis GmbH, GS1 Germany, TH-Deggendorf, Uni Siegen and tsenso as consortium leader. Since this month also the Hochschule Weihenstephan-Triesdorf has joined the project with their renown food expertise.